Although known as herders or pastoralists, the Khoikhoi also obtained food by hunting and gathering. The sharing of food was an important aspect of village life. Any significant kill was shared, and sheep or cattle killed during ceremonial feasts were eaten by all present. Although wealth was measured in terms of livestock ownership, hunting and gathering was open to all members of the tribe.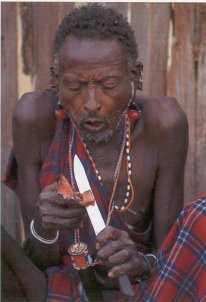 The Khoikhoi kept large herds of fat-tailed sheep, long-horned cattle, and goats. Livestock were used for milk and were slaughtered only on ritual occasions. Oxen were used as pack animals, especially when camp was moved.
All stock were individually owned. Chiefs and headmen owned a large number whilst servants may have owned no stock whatsoever. Cattle were left to roam as there was no threat from predators. The herds would be taken out every day in search of grazing and returned to the kraal at night. There was probably a strict division of labour among the Khoikhoi, with cattle being men's work and women and children looking after the small stock. During the day, the adults might have remained in the kraal, manufacturing utensils and weapons, or doing domestic chores. Men also went out hunting and the women gathered veldkos (wild plant foods).