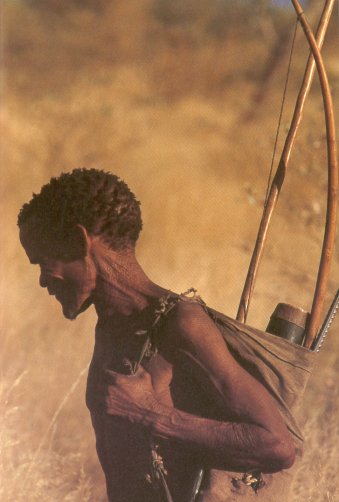 The hunters of today have no collective name for themselves. They use their own group names, such as Ju/'hoansi (people who live on the border between northern Namibia and Botswana) or Hai//om (people who live around Etosha National Park).

San = Sanqua = Soaqua was a name given to hunters by the Khoekhoen of the Cape. The word means 'people different from ourselves' and became associated with those without livestock, or people who stole livestock.

The name 'Bushman' or 'Bossiesman' was given to low status people by the Dutch settlers in the 1600's, and referred to those who collected their food off the land and had no domestic animals.

Khoekhoen = Khoikhoi = Kwena is a general name which the herding people of the Cape used for themselves. The word can be translated to mean 'the real people' or 'men of men', meaning 'we people with domestic animals' as opposed to the Sonqua or Bushmen who had none.

Khoesaan = Khoisan is a general term which linguists use for the click language of southern Africa. Physical anthropologists use it as a biological term to distinguish the aboriginal people of southern Africa from their black African farming neighbours.

.. read on: A history of perspectives...

News Articles
UCT: 23 September 2020 - launches milestone Khoi and San Centre
Daily Maverick (Jay Naidoo): June 29, 2015 - A journey with the San
Dispatch Online (East London Newspaper): May 5, 1999 - Removal of Khoisan mummy from mountains slammed
The Independent (UK): Friday, 1 May 2009 - World's most ancient race traced in DNA study
Survival International: 20 May 2009 - Government renews assault on Bushmen
WW4 Report's blog: 04/30/2009 - Botswana: depressed diamond industry saves Bushmen lands In honour of women on National Womens month in South Africa, Celebrating a little known woman. By Horst Kleinschmidt : A Memorial to Zara Schmelen, August 2013.